LIAR LIAR . . .
PANTS ON FIRE !
I shot this photo Feb 27, 2007 while traveling on Hwy. 6 West outside of Oxford, MS. It seems that State Farm needs to reconsider what they are saying on their billboards, especially after announcing they will be pulling out of Mississippi!
STATE FARM reported a $5.3 BILLION PROFIT for 2006 – up from $3.2 BILLION from 2005, the hurricane year which included Katrina, the costliest disaster in U.S. history.
The company reported paying out a record $6.3 billion for claims and expenses related to Katrina, Rita, and other tropical storms.
Katrina hits Pearlington, Waveland, Bay St. Louis, Pass Christian - dead on!
Feb. 2007, these are still all too common sites along the Mississippi coast . . .
Bay St. Louis, Mississippi sign - Feb. 2007
Home on beach front in Bay St. Louis - Feb. 2007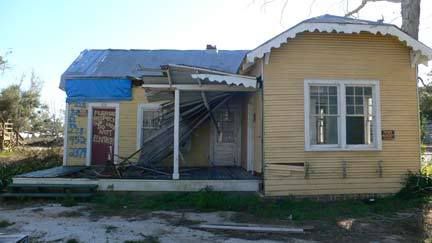 Home in town - Bay St. Louis - Feb. 2007
Labels: Rebuild, Recover, State Farm